Thirteen and a half hours ahead of LA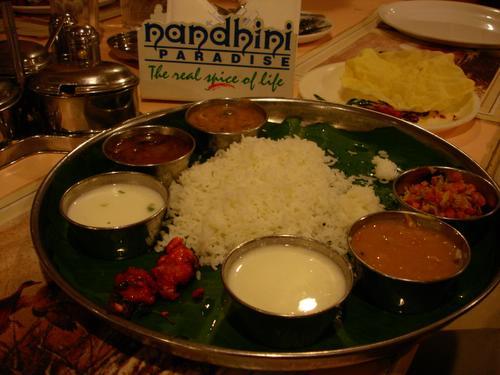 Shortly after arrival in Bangalore, I was taken to Nandhini. Immediate happiness ensued. This is the meal ordered by one of my hosts, Pooja. Rice is the core item, and they set you up with various condiments, as well as coming around with ghee and other garnishes to mix into the rice. [and it's all-ru-you-can-eat-u]
By the way, the title of this entry is in reference to Indian Standard Time being 5.5 hours ahead of Greenwich Mean Time. Kevo also points out that there are other time zones on the half hour or even on a quarter hour adjustment from G.M.T.
Below, mutton biryani I ordered at Nandhini because I didn't know how to attack a thali meal. Two nice chunks of mutton are tucked into that pot. Over the last few days, I've been practicing eating with my right hand only, and will try to get the full thali experience before I leave.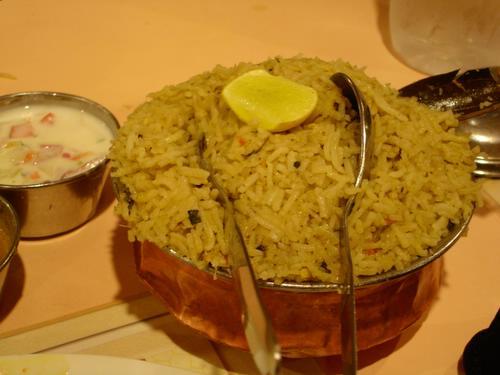 I'm not sure what this chicken dish is called, but it's tasty. Chicken Andhra (dry), maybe?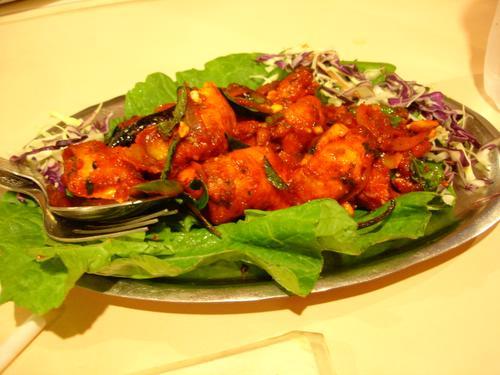 This is one of several homemade breakfasts I was kindly served. It's akki roti, a flatbread made of rice flour, with cilantro leaves and spices mixed in, with some curd (yogurt) and chutney podi (garnish spice mix powder, aka gunpowder). Other breakfasts included fresh puris and a green bean and potato dish, dosas and a sesame paste, and steamed rice with a shelling pea stew. Sorry, I don't have all the names of the dishes.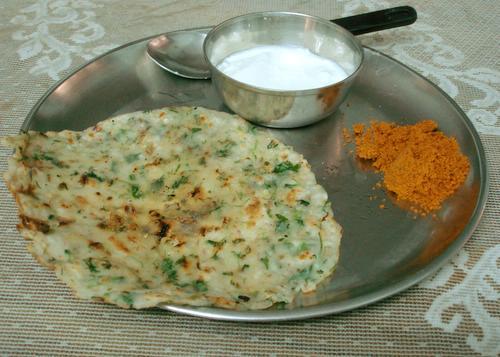 One day I walked around the main City Market. The essential types of produce are there, but it's unpaved and dusty. Most of the pictures I took are of people who asked to have their picture taken. I'm not sure why, but I don't feel comfortable posting those pictures here. I guess because as I took pictures of a few people, they'd point to their friends, and some of them refused. Unlike the guys from Chowpatty, I'll respect their privacy. If there's interest, I'll post them to a separate location. But while at the market, I found this freshly baked dilkush, which is a laminated dough (like a puff pastry, but a bit chewy) with a filling of coconut, candied fruits, and a sweet paste of some kind.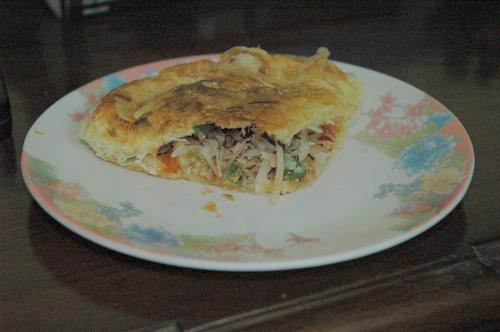 On a another day, we had dinner at a restaurant called Angeethi. It's a cleaned up and transplanted version of a dhaba - a roadside restaurant, usually associated with the North. There's an open kitchen, and this cook is making Roomali roti. He rolls out a disk first, then whips it out using alternating hands, then finally goes for the style points with the aerial toss. For cooking it's placed on an overturned kadai (a round pot, more steeply sided than a wok). The final result is similar to fresh lavash [or a Mexican flour tortilla that is allowed to puff].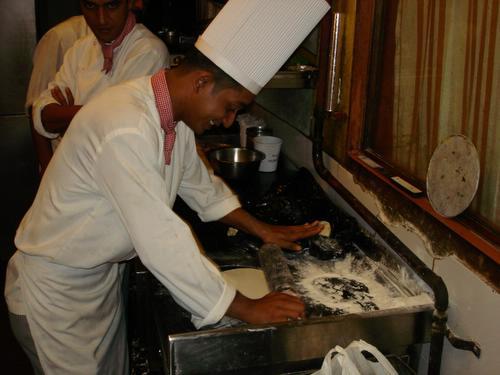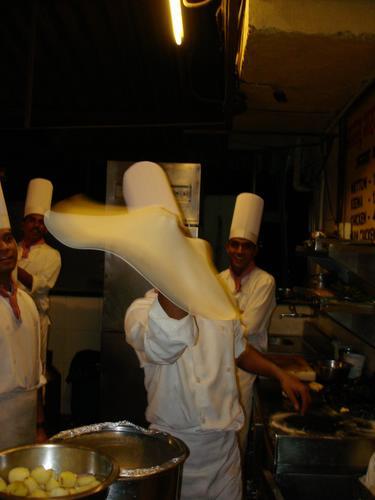 Another favored spot is Mainland China, off MG (Mahatma Gandhi) Road. It's an upscale take on Chinese food, modernized in presentation, and tweaked just a bit spicier for the Indian palate. Chef Arjun (from Nepal) came to our table for a quick hello, but we gave him big props and a round of applause for his food. The waiters serve from platter to the plate, so I don't have shots of the platters. However, we went back for lunch another day, and Archie served as food stylist for this shot of Dry Red Chilli Chicken.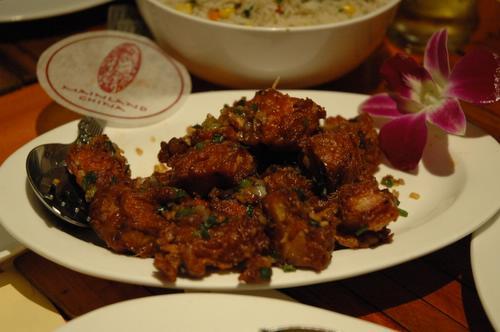 Many thanks to my hosts (Archie, Vijay, Smruthi, Pooja, Kabir and the Bhartur and Ramaswamy families, and Mr. Sresta and friends) for their kind, patient, and generous hospitality!