Daytrip: Zarautz & Getaria
I got up early and went to the Bretxa, the local market. It's been renovated not too long ago, so it's modern. But people in the old part still come here to shop. So it's still pretty authentic. Just new and shiny. Then vendors here have taken to sprucing up their displays. It's all about the presentation! In front are the percebes, goose barnacles, just to the left in the bag with the rubber bands are navajas, razor clams, and then a variety of fish.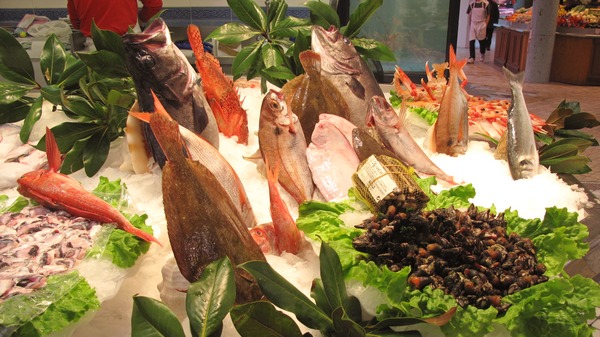 I picked up a few snacks. People are the same all over the world, and karma is a bitch. I asked the lady at the bakeshop if she had any suggestions. She said, "Everything is good." I said, I know, everything looks good, but do you have any favorites? She said, "They're all my favorites." I said, but are these the best ones? She said, "Different people like different ones." I was trying to be funny but she was not amused. I can relate, I've probably done that exchange almost word for word from the other side. Oh well! This is what I ended up with: On the left, figure eights, which are pastry dough, formed into an 8 shape. These were a touch dry, but ok. In the middle, little Basque custard pies with crisp on top, and anise flavored ring cookies. The custard pies were the best of the three, but a little too yolky for my taste, plus baked a little too hard, so they were a little overcooked and full of bubbles. The anise things tasted like somebody spilled the fake anise flavoring in the dough.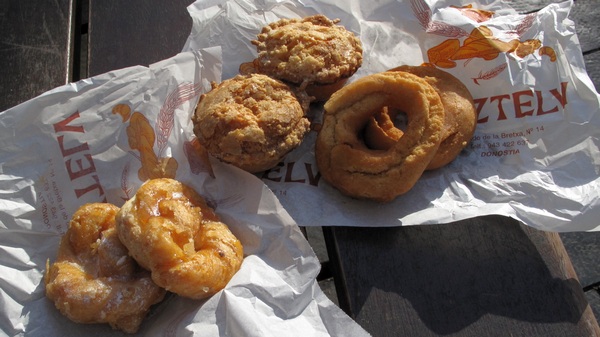 Noel was able to break away today, so he led the way. We took a local train to a town to the west called Zarautz (thah-rahw-ooth), wandered around the town a bit, had a beer, then took a nice 40 minute stroll to the town of Getaria. Um, yeah, it's gorgeous. And I brought the sun with me. That last rock formation out to the right is called the Rat, because it looks like a rat in profile. Head toward the right.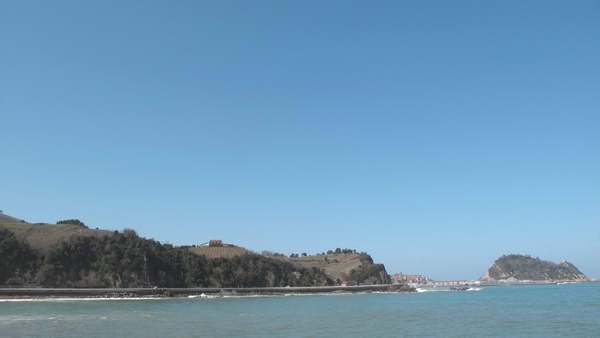 Eh, brah! Da break over by da Rat stay pumpin' today! We go!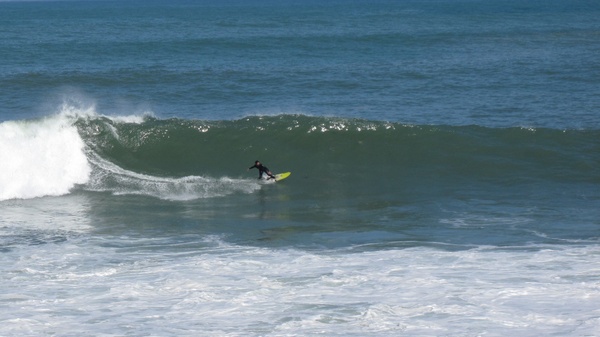 More pix after the clicky>>
Getaria's claim to fame is being the birthplace of Juan Sebastian Elcano (or sometimes Elkano), who was the first sailor to circumnavigate the globe. Magellan had 4 boats, and Elcano captained the only one to make it back. Yet Magellan gets all the credit. We saw at least 4 statues of the guy.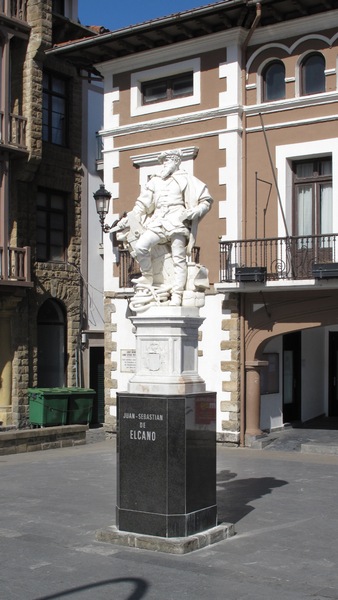 At a restaurant called Mayflower, just overlooking the harbor, we started with txakoli (cha-koh-LEE). Txakoli is a wine made in this area, it's got good acid and it's also a bit sparkling, frizzante. Tasty stuff.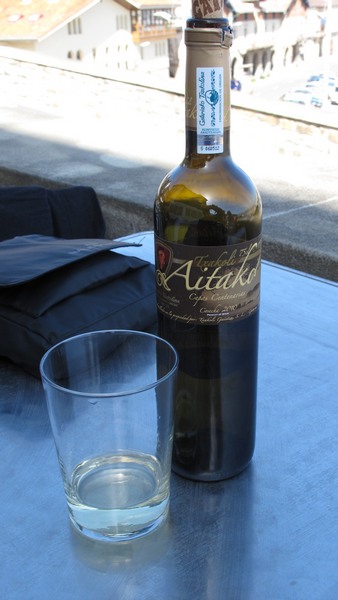 Fried calamari is usually refered to as a la Romana (Roman style) - this one had turmeric in the batter, making it this striking color.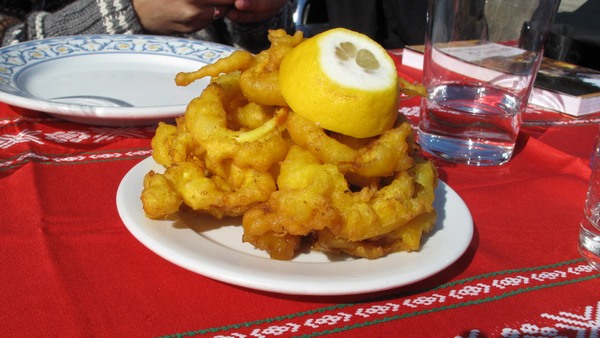 Getaria is known in the region for having the best seafood restaurants, and the premier fish to get is called besugo. It's a sea bream, really clean fish flavor, minimal treatment, just garlic, olive oil, sea salt, cooked on the plancha. It ain't cheap, but it is deeelicious!!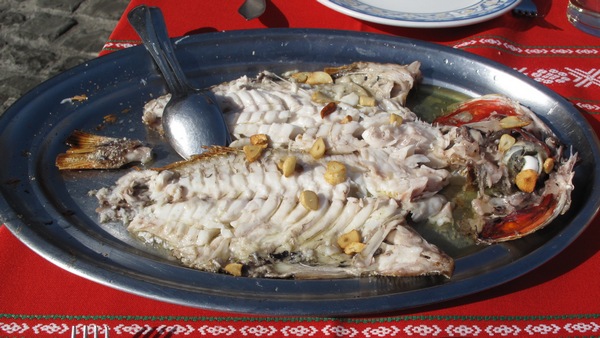 Housemade cheesecake with strawberry sauce. Homey and delicious.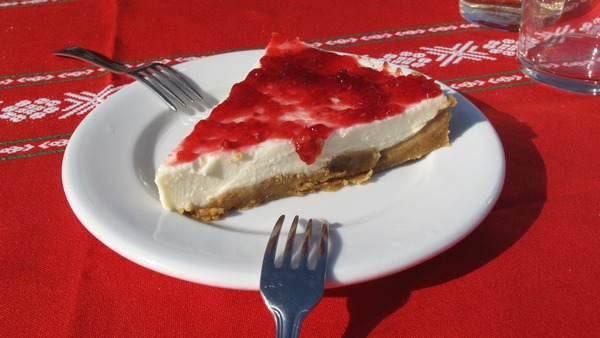 Noel's only been living here for about two and a half years, but he fits in well, despite coming from a very different place and background. As they say, it ain't where you're from, it's where you're at. And this area is pretty amazing. Thanks again for a great afternoon, Noel!

Back in town, I picked up a few things to try from the local supermarket. I thought it was pretty cool that the seltzer came in a plastic seltzer bottle that has it's own lever and everything. The blue bottle a non-sparkling water called Solan de Cabras, and I have to say it reminds me of the water at home in Hawai`i, with a natural sweetness. Actually delicious. Of the beers, my favorites were the Pagoa Red Ale and the Judas. In front is cuajada, it's basically sheep's milk yogurt (it has a touch of the complexity I associate with sheep's milk), and the natillas is panna cotta with caramel. Flan or creme Catalan would be similar, except with egg - a custard. This is just set cream.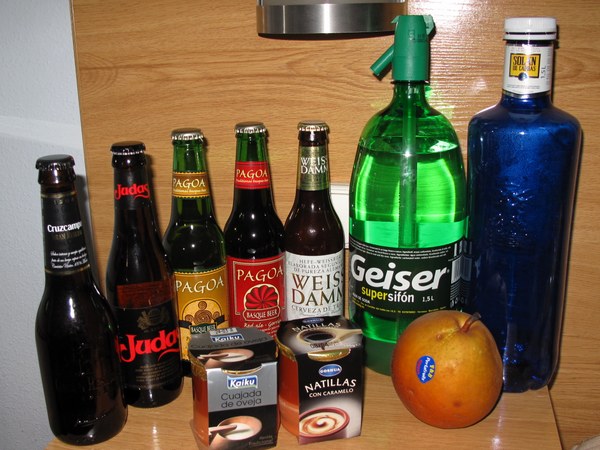 Next up, Akelare!